The Distinguished Gentleman's Ride (DGR)
Our distinguished gentleman, Ian Georgeson (left) pictured here with his childhood friend Mark Van der Griendt.
They say a picture paints a 1000 words, and from hereon, this article will paint a picturewith images taken by Bruno Gila.
On Sunday May 22nd around the world, the global DGR community came together and celebrate in trademark dapper fashion. 2022's theme was "We Ride Together". This event was originally founded in 2012 by Mark Hawwa in Sydney, Australia. A week ago (on LinkedIn) he quipped "This year is all about bringing people back together. We know statistically that these Covid filled years have been extremely hard on people and we know that social connectivity is hugely important – now more than ever." We thoroughly agree – and believe that Covid has had a hugely negative impact on mental health, which social connectivity tends to mitigate.
Men and women alike enjoyed the day!
Apparently, men die on average 6 years earlier than women and for largely preventable reasons. The number of men that are suffering is growing, and we need to do something about that. Since 2016, "Movember" has been the official charity partner of The Distinguished Gentleman's Ride. Both organizations share one common goal: to bring people together and raise awareness of men's health. 2022 marks the seventh year of this collaboration. During this period of time funds raised have led to game-changing research in prostate cancer and life-saving mental health and suicide prevention programs.
Prostate cancer is the second most commonly diagnosed cancer in men, and Movember is the largest funder of prostate cancer programs in the world. The second medical focus is on Suicide Prevention and Men's Mental Health. Three out of four suicides in the world are men. Too many men are "toughing it out" and struggling all alone out there. One of the purposes of these rides is to create a community, destigmatise these issues and promote the mentality that there's no shame in checking in on your own mental wellbeing, and those close to around you. Improving overall mental health can significantly reduce the risk of suicide – and that is part of the focus of this event.
Mark Hawwa's original inspiration was a photo of Mad Men's Don Draper astride a classic bike, wearing his finest suit. That first ride brought together over 2,500 riders across 64 cities. The rest, as they say, is history. The ride provides an outline of dress and behaviour, suggesting that riders wear "dapper" clothing (including silk vests and tweed suits) and behave courteously, donning not only classic style, but classic manners. Suggested motorcycles for the themed classic and classic styled motorcycles/scooters ride, include café racers, bobbers, classics, modern classics, flat trackers, scramblers, old school choppers, brat styled, classic scooters, and classic sidecars. In fact, it would appear to include any classically designed motorcycle communities. What a great way to combat the often-negative stereotype of men on motorcycles. The event is open to all genders, and many ladies also take part…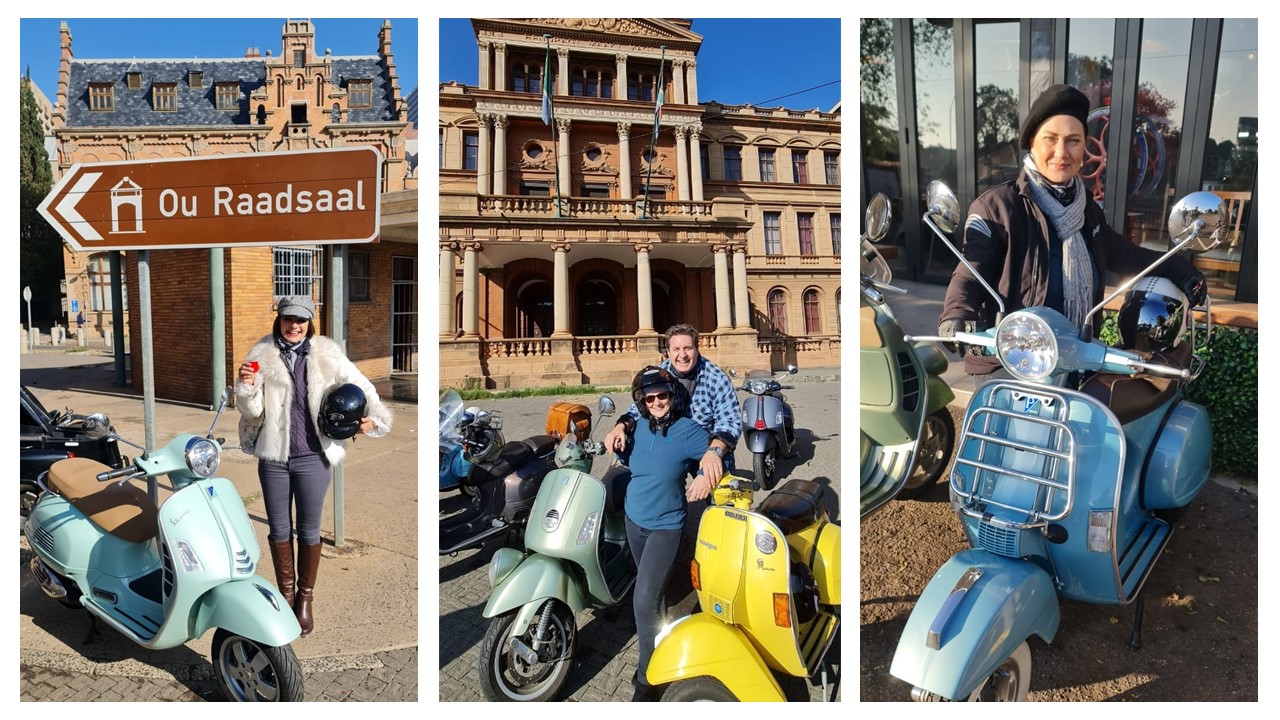 The inimitable Bruno Gila in the middle of the lasses…
Since 2012 this event has raised USD $31.6 Million, and there have been 340 000 Classic and Vintage Riders in 115 countries. What a wonderful testament to camaraderie, and the desire to "Do Good"!!
Locally the Vespa Pretoria Community participated in an Urban Ride in the City of Pretoria, primarily to see Sir Herbert Baker Buildings. Almost 40 bikers supported, and great fun was had by all. This group often gets together to participate in interesting activities. If this is something that may interest you, see the Facebook link in the information block below. Isn't it wonderful to see people out and about again??
Jacqui Ikin & The Cross Country Team
#vespa #dgr2022
INFO BLOCK:
Vespa Pretoria Community:
https://www.facebook.com/groups/VespaPret