How to make a paper aeroplane…
How to make a paper aeroplane…
South Africa's approximately 1.2 million hectares of timber plantations produce between 15 and 18 million tons of timber every year. There are eleven forestry companies, about 1,100 commercial timber farmers and 20,000 small-scale farmers. Most are members of the industry body 'Forestry South Africa'. Major players include Sappi and Mondi, Lion Match Forestry, PG Bison and the state-owned industry player Safcol.
Replica of the Dutch Reformed Church, Bosman Street, Pretoria.
Made by Mr Nel, who only has 20% vision, with 42 000 matches.
Timber is considered a renewable resource, and forests play an important role in climate change mitigation. In South Africa there is a growing timber shortage, and the industry is constantly struggling to access enough suitable land to plant new forests. South Africa is a significant exporter of pulp, paper and solid wood.
An innovative depiction of the world's timber nations.
This industry contributes to local economies through job creation, social services and infrastructure development. There has been significant development of small-scale growers, who are usually located near to larger industry players that have harvesting and transport capacity. Most of the industry's workforce obviously lives in rural communities.
Pre-1650 Forestry. Notice the petrified wood stumps around the women's feet.
The little town of Sabie sits at an altitude of 1 000 metres above sea level. Because of this relatively high attitude this area has always been malaria-free. For these reasons, pioneers used the area for base camps when hunting and exploring down into the Lowveld. The river used to teem with crocodiles, and so the local Shangaan people called it uluSaba – "the river of fear".  It is from this Shangaan word that the town's name was derived.
The history of the industry is depicted on the walls…
In 1871, a stray bullet from the famous hunter Henry Thomas Glynn's gun chipped a rock and revealed a rich gold reef. This was the start of the Sabie gold-rush. Many of the indigenous forests were collateral damage, destroyed to accommodate the need for firewood and, later, mine-props. In effect, mining was the initiating factor for the timber industry in this area.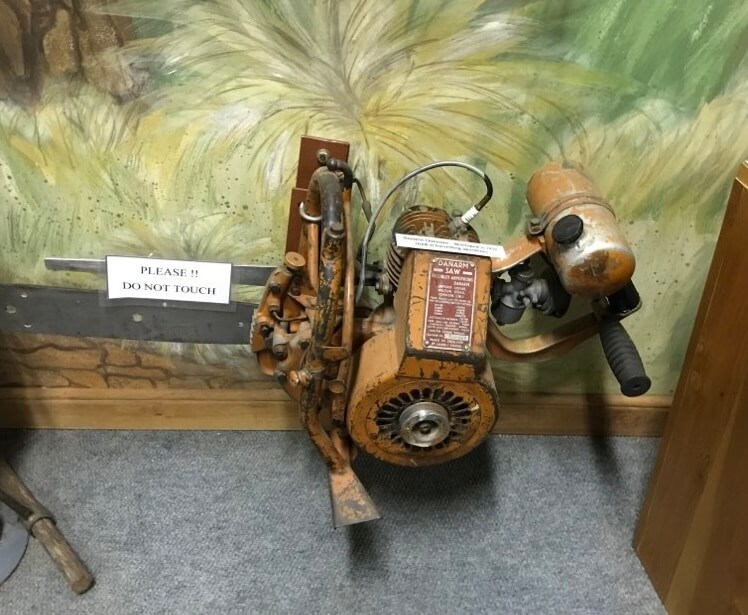 An 'antique' chain saw.
A gentleman known as Joseph Brook Shires was smart enough to realise that man-made forests would be required, and he planted the first commercial trees in 1876. And the rest, as they say, is history. Today, Sabie is surrounded by one of the world's largest man-made forests, which are mostly Pine (a softwood) and Eucalyptus (a hardwood). The forestry industry in Sabie is the biggest contributor to employment in the area and is still growing every year. A number of sawmills (including the largest sawmill on the African continent) are located around Sabie, and Mpumalanga accounts for over 40% of the timber grown in South Africa.
"Between every two pines is a doorway to a new world." – John Muir
This Outeniqua yellowwood disc came from a tree which had died in the Eastern Cape. It was taken 18m up the tree because the portion below this point had decayed. This section was counted to be 520 years old. The tree itself was almost 600 years old. Below is a historical timeline depicting events during the life of the tree…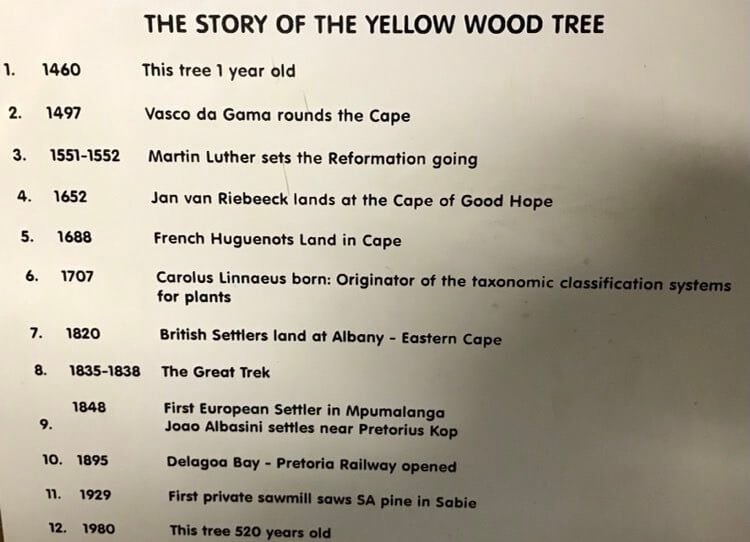 In the town of Sabie, you will find the "Forestry Museum and Information Centre" (also known as the "Komatiland Forestry Museum"), which records the history of South Africa's timber industry. Detailing the birth of the industry, you are taken on a journey of forestry and how its methods have evolved over the years. The ecological value of forests is highlighted and the influence of technology on the industry is explored. Various harvesting procedures, the uses for timber, and steps the industry is taking to make it all environmentally friendly are also on display. Information relating to humanity's relationship with indigenous forests and their contribution to quality of life is provided.
Take the time to visit if you're in the area – it's a fascinating little spot!
Jacqui Ikin & The Cross Country Team
INFO BLOCK:
SA Forestry Museum
Phone: +27 (0)13 754 2724
Email: ecotour@safcol.co.za 
Address: 10th & 7th Ave, Sabie, 1260.
Cost: R10 per person.
Hours: Monday to Fridays, 8am to 4.30pm; Saturdays, 8am to 12pm. 
Closed on public holidays and Sundays. 
Ideally, confirm this info before planning your visit – times could change.