White-fronted bee-eaters.
Leisure Travel in South Africa tends to focus on outdoor travel – adventures, wide open spaces, wilderness areas and our stunning array of wildlife. A component of all of these is birdwatching. In line with last week's article about keeping the magic alive, today we explore this pastime.
There are many therapeutic benefits to birdwatching. Getting out into the fresh air is great for mind, body and soul. It's a great way to connect with family and friends, and also to meet new people. Being in nature effectively combats stress and helps you to relax, and birdwatching is considered a meditative activity by many. It also encourages you to be physically active – which is an added bonus. Birding or birdwatching is one of the fastest growing hobbies in the world.
Let's look at a couple of related definitions … "Ecotourism" is the responsible and sustainable travel to natural areas that conserves the environment and improves the well-being of local people (think employing local bird guides) – but more about this next week. "Bird-watching" or "Birding" is the observation of birds for recreation. "Endemic birds" are birds limited to a specific geographic region. "Ornithology" is the scientific study of birds. A "Twitcher" is a birdwatcher whose main aim is to collect sightings of rare birds. Right – let's crack on then…
This African fish eagle would have easily been missed if we weren't paying attention.
When to birdwatch
This pastime can take place at any time of the year, although there are obviously seasons which are better or worse depending on your geographic location and your goals. The "best" time of day to go birding depends on what kinds of birds you want to see. Mornings are usually better for songbirds. Dusk or dawn obviously tends to yield better sightings of owls or nightjars. Wading birds and shorebirds are generally viewable all day, as they live out in the open on or near the edges of water. The best time to go birding is when you can. That said, WIND is a four-letter word for birders – the birds just disappear. The only possible advantage of windy days is flight photography. If you're able to get the magic combo of birds flying into the wind and generally towards the sun, grab the opportunity to take photographs. Their ground speed is hugely diminished, giving you an opportunity similar in experience to playing a movie in slow motion. Clear, sunny and no wind is the best weather, and early mornings often offer the best opportunities to see more birds.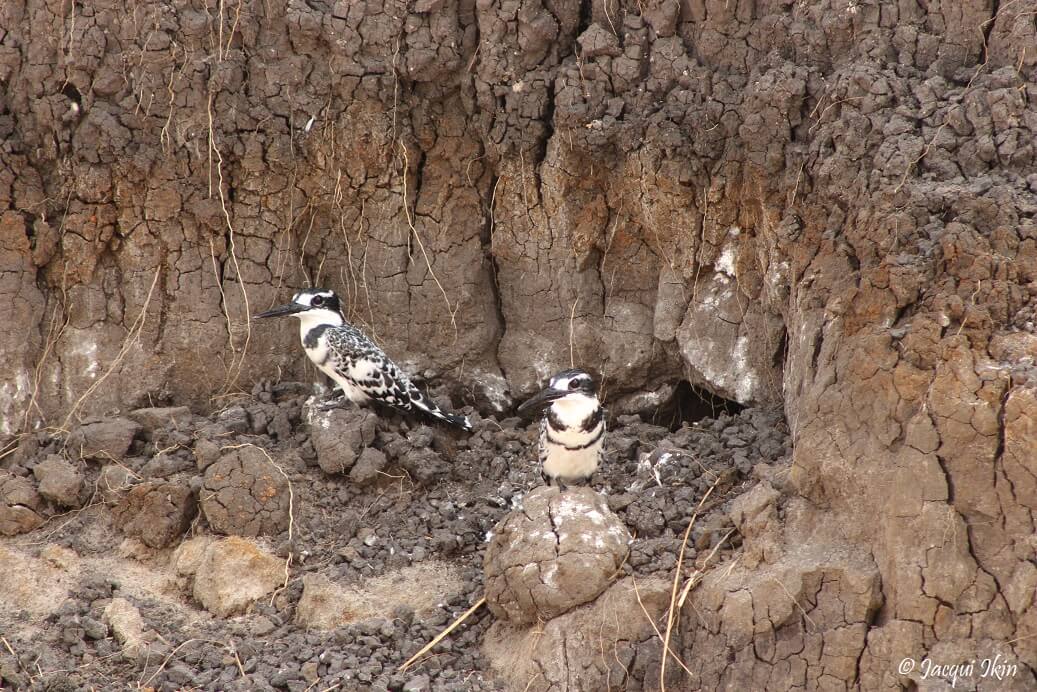 A pair of pied kingfishers at the entrance to their nest.
Where to birdwatch
Birds are everywhere. They are generally very easy to detect, making all kinds of beautiful sounds. They also come in all kinds of brilliant and diverse colours. When you begin to realize how many different birds are actually living where you live, you won't be able to stop noticing them. As an absolute beginner, your garden is a good place to begin. There are also many local parks that offer great birding opportunities, including "hides". There is no "right" or "correct" way to observe birds, contrary to popular misconception! You can enjoy them however you like! You could be doing the dishes, and spot a grey lourie (now called the grey go-away bird) outside your kitchen window, and you pause to appreciate it — that's birding! Maybe you take a moment to observe some doves fighting over food scraps in a shopping centre parking — in my book, that counts as birding too… As you get more experienced, you can go further afield. The world is waiting. Ideally though, start and get experience locally, so that when you embark on that once-in-a-lifetime trip, you can really get the best out of it.
A marabou stork with a pair of blacksmith lapwings or blacksmith plovers (old name) at the water's edge.
What kit do I need?
You will need a pair of binoculars to begin. There's a ton of advice out there on exactly which are the best for birding. To start with, the best is whichever pair you have or can borrow. You may also be able to buy second-hand from various stores. Search around – you could save thousands. In the better stores, the staff will be able to advise you. Personally, I believe if you can get a smaller pair (in size), it's more convenient – remember that you are generally on foot when birdwatching, and a large pair becomes tiresome to carry. Some birding clubs could also have pairs that they lend out…
A good field guide is also important and will help you identify the birds. You can record your 'ticks', together with a date and a venue at the back of the book, which provides a wonderful history of your birding endeavours and your travels to boot. My personal favourite in the field (because I have used it since the beginning) is Newman's Birds of Southern Africa. Don't buy a "pocket guide" as a starting point – you're just going to get frustrated with the birds that aren't in there… Different field guides have a different focus e.g. underwing patterns on raptors etc. You can also purchase a second-hand copy to start with – or ask around on your community groups and you may just get one for free. Birders are a generous lot – ever eager to recruit people to their past time. The three field guides worth considering are Sasol Birds of Southern Africa (5th Edition), Roberts Bird Guide (2nd Edition) and Newman's Birds of Southern Africa (10th Edition).
Is a birding app a good idea? In my personal opinion, a birding app that requires that you be online to function is not going to work once you get to the more remote areas, so make that your first criteria to check. In an interesting development in the annual MTN Business App of the Year Awards, the winner of the Most Innovative Solution for 2020 was BirdPro. It is now considered to be the ultimate app for birdwatching. Herman Van den Berg took three years to develop the app, and no internet connectivity is required to operate the app after it is installed – which makes it possible to use in the most remote locations. This app is considered to be a truly ground-breaking, first-to-market, disruptive solution.
How do I learn to identify birds?
As per Nike, "Just do it!" There's no substitute for experience. Get out there and practice! You could join a club, or go with a knowledgeable friend. A regular birder will definitely help you see more and also point out important features in real time. There are many resources online too. Once you identify a bird, try learn something interesting about that bird too – it will make it easier to remember long term. When you begin to identify a bird by sight, it's helpful to take note of the following characteristics in order: size, shape (including beak), habitat and behaviour and colours (including those of their legs). 
A saddle-billed stork – sometimes the sighting is just "textbook" …
How do I use a hide?
Don't be intimidated by a hide full of people with crazy expensive kit. Enter and close the door quietly. If you're not sure which birds you might find, you will often find a list of birds or a board detailing common birds in the vicinity. Find a spot with a view. It's perfectly acceptable to talk quietly, and to ask people what they have seen. They will generally be happy to share, even pointing out something interesting. When done, quietly add any new sightings to the log and leave quietly.
If you're an experienced birder, please feel free to share this article with someone whom you think may enjoy the pastime. The more people get out and enjoy nature, the longer it will last in this beautiful country of ours. When you're on a game drive where no animals are visible, there are always one or two birds to focus on. Back to the subject of consistent magic and being present and focusing on what is happening in the here and now – bird watching is a wonderful activity to do mindfully!
Wishing you many happy hours of birding!!
Jacqui Ikin & The Cross Country Team