Just a Hop, Skip, and a Jump Away…
The Eiffel Tower at Little Paris. Image © Jacqui Ikin.
Our incredibly beautiful and diverse country lends itself to road trips of the most delightful kind. Wherever you are based, you can literally head off in any direction and end up somewhere worthwhile. But sometimes time is not on our side, or there is more month than money (especially with the current price of petrol!). This is where the 'mini road trip' comes in. Pick a direction, pack some waters and head out for the day. Explore your backyard the way a tourist would. Which is exactly what we decided to do last weekend. Destination? Harties!
The sun was shining and spring was in the air. We departed reasonably early, as the area is known for getting really busy on a Sunday. As you get close, there are loads of vendors along the verge of the road – all selling whatever happens to be in season. This weekend it was avos, naartijies – and a large variety of spotted mushrooms in all sizes, in a multitude of colours (think red, blue etc) which seem to have taken over the role of garden gnomes. I have yet to see a garden which contains one of these mushrooms, but they are clearly in fashion somewhere as there are endless street hawkers offering them!
If you enter Hartbeespoort on the R511, just over Saartjie's Nek Pass you will see a structure on the left which appears completely out of place – a huge Dutch windmill. This is the home of "Jasmyn" farmers' and crafter's market – a worthy stop to stock up on fresh fruit and vegetables at incredibly low prices. There are also a number of shops housing arts and crafts, as well as a selection of plants and a restaurant or two. On the weekends there are often pop-up flea markets as well, stocking anything from clothes, braais and veldskoen shoes all the way through to bespoke pocket knives. 
Café Alexandre at Little Paris. Image © Jacqui Ikin.
A little further along the road, on your right this time, is Little Paris. The French Toast Coffee Café was specially built as the official 'Bar' in the local film "French Toast" (known as Café Alexandre in the movie) and was eventually used as the official premiere venue for the film. 
There is a 12.5m Eiffel Tower, and a Love Bridge which is adorned with thousands of locks. It's a fabulous spot for somewhat different selfies and "look what I did this weekend" images. In the parking area there is a ramp which allows you to position your vehicle against a Parisienne street background for a "motor selfie" which looks as though you're driving through the streets of Paris.
There are many "selfie" opportunities at Little Paris… Image © Jacqui Ikin.
A couple of ducks, chickens, peacocks and peahens roam freely and are part of the attraction. You can purchase a love lock on site and even get it engraved before adding it to the fence on the bridge of love. Also on the premises is a deli, a quaint gift and décor shop called Butterfly Blu and a vintage photo booth. This spot gets REALLY busy on weekends, so I would advise that you get there early for a delicious breakfast. If you're feeling indulgent, may I suggest their Oeufs Bénédicte (Eggs Benedict) – it is honestly the ultimate breakfast indulgence!!
Oeufs Bénédicte. Image © Jacqui Ikin.
"Pretville" was Afrikaans musical film, set in the 1950s, in a generic Afrikaans dorp. In the small, bright and vibrant town of Pretville, anything is possible and interesting things happen all the time. It opened on 23 November 2012 in theatres around the country. These days, the film set is open for visitors. 
Classic car parked outside the diner at Pretville. Image © Jacqui Ikin.
It is Hartiwood Films' very own film town complete with classic cars, a Bioscope cinema and a retro diner (apparently the burgers and milkshakes are fantastic – we didn't have space!). 
Inside the diner. Image © Jacqui Ikin.
It has a number of realistic 1950s sets and props, as well as a sprinkling of vintage cars. You can even watch a selection of movies in the 'bioscope', including "Pretville" and the above-mentioned "French Toast".
Vintage cars in Preville. Image © Jacqui Ikin.
Our next (unplanned) stop was at the Hartbeespoort Dam wall. The queue to cross can get quite long towards midday, so as with most things in Harties, earlier is better. A word of caution – there are vendors that walk up and down the stationary traffic selling goods such as hats. I'm sure most are benign, but the one guy pointed at our car as though we had a flat tyre or something was wrong. Once we opened the window slightly, he tried to sell us the hat by aggressively shoving it through the window and then demanding payment. The 'hard sell' pitch was given as alcohol fumes wafted through the window. No real issues, but just be vigilant as this could be rather disturbing to small children or overseas visitors.  Once you cross the wall there is an area on the right where you can park and walk back across the wall. We bought some enormous butter avos from the vendors here.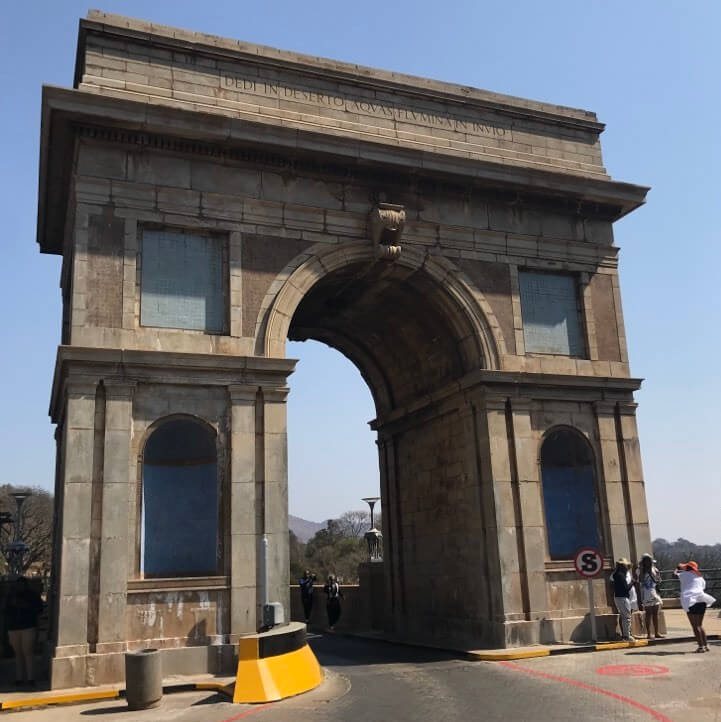 Our own "Arc de Triomphe". Image © Jacqui Ikin
During 1896 General Hendrik Schoeman began building a dam wall on the Crocodile river on his farm called Hartbeespoort. The dam was named Sophia Dam (after his wife) – but the name was later changed to Hartbeespoort Dam. At the time, it cost a staggering £10 000 to build. The primary purpose of the dam was to provide water for the town, an industrial area and an intensive agricultural development. Unfortunately, the dam was washed away in a flood on 9 January 1909. It was later decided that the dam wall should be relocated to the position between two mountains – where it is still found today. Between political and financial issues, the war, and various floods, construction was highly problematic. Eventually the council appointed a young, but talented, engineer named F. W. Scott, after which the project went ahead at full steam. The dam was filled on 11 March 1925.
View from the wall – downstream. Image © Jacqui Ikin.
Scott had revised the plans and replaced the enormous gravity wall of the previous dam with an arch wall, which would be supported against the rock faces on both sides of the Poort. As the barrage was already placed in the far northern position, Scott's choices for his arch wall were limited. In his "compromise position", the western side support reached only half the height of the wall. The extra support he required came from broadening the wall on that side, then spanning the bridge that stretched over the spill way with the weight of the "Victory Arch" – effectively a replica of the Arc de Triomphe in Paris. There are two inscriptions on the arch. The one side reads "Dedi in deserto aquas, flumina in invio" which means 'I pour waters in the wilderness and rivers in the desert' (Isaiah 43:20). The inscription on the other side reads "Sine aqua arida ac misera agri cultura" which means 'without water agriculture is dry and harsh'. It's interesting that the expressions were written in Latin – likely as a result of the politicians having a hard time trying to reconciliate the Afrikaans and English language groups, and thus using Latin as a neutral language. The arch is however unique to the Hartebeespoort dam.
View from the wall – upstream. Image © Jacqui Ikin
Our next stop was Chameleon Village – a huge market of African curios, clothes and art. There are a number of al fresco restaurants and a little shop which provided the obligatory 'ice cream in a cone' experience to go with a rather hot day! This is the perfect spot to take overseas visitors looking for mementos to take home, or to shop for African décor. 
Entrance to Chameleon Village. Image © Jacqui Ikin
Just down the road is The Aloe Farm – a lovely nursery with a vast selection of plants at reasonable prices. It is also the ideal spot to photograph aloes and, when it is quieter, birds. 
Incredible bonsai specimen at The Aloe Farm. Image © Jacqui Ikin.
The Upside Down House is just what it says it is – a house built upside down! All the furniture inside, etc which would normally be on the floor, is now above your head – so it is a really great space to take unusual selfies. The words "Topsy-turvy" spring to mind! The R100 entry fee seems somewhat steep, and the place needs some TLC – but it's all in a day of fun and the memories and cool images make it worthwhile. Kids will LOVE it.
The Upside Down House. Image © Gerrie Van der Westhuizen.
Our last stop was at Maggies Farm- Home of the Chicken Pie, located on the R512. They have the most delicious selection of pies, including (obviously) the chicken pie. You can also buy pies to take home for baking, as well as a number of other treats such as various nougats and some decadent cakes which are sold by the generous slice. There is a children's play area, so you can eat your pies on site whilst the kids let off steam. There's also a little market, as well as some art galleries and antique shops.
By this time, it was late afternoon, and it had been a long day so we headed home, thoroughly relaxed and ready for an afternoon siesta. All in all, its was a day well spent, filled with interesting bits and bobs, and delicious treats. On days like this one realises just how lucky we are with the weather in our country. Next weekend, instead of sitting in front of the telly, grab the opportunity and go on a mini road trip!! Go fill that memory jar…
Jacqui Ikin & The Cross Country Team
INFO BLOCK:
Jasmyn Farm Products:
https://jasmynplaasprodukte.co.za
French Toast / Little Paris:
http://frenchtoastharties.co.za
Pretville:
http://pretville.co.za
Hartbeespoort Dam Wall:
https://www.wrc.org.za/wp-content/uploads/mdocs/WaterWheel_2008_03_07%20HBP%20Dam%20p%2019-21.pdf
https://kormorant.co.za/hartbeespoort-how-it-began-2/
Chameleon Village:
https://chameleonvillage.co.za
The Aloe Farm:
https://www.thealoefarm.co.za/
Upside Down House:
https://www.upsidedownhouse.co.za/index.html
Maggies Farm – Home of the Chicken Pie
https://www.facebook.com/homeofthechickenpie