All that glitters IS gold…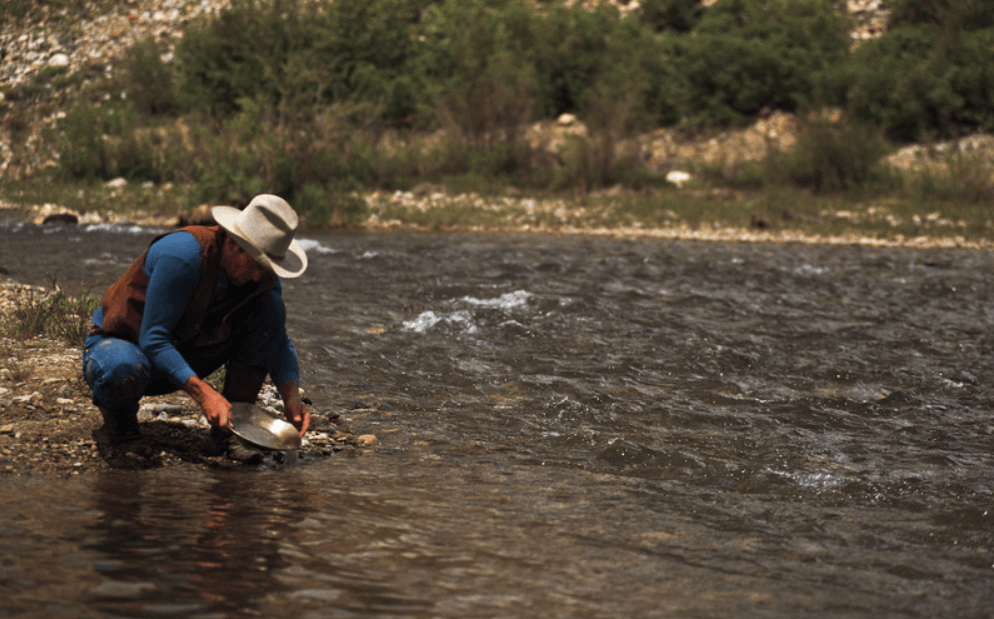 Panning for gold in a stream…
The air is cool, and the stream even colder. The world is quiet, the only sounds are the bubbling of the water and the occasional loud 'kok kok kok' of a lourie somewhere deep in the forest. Holding the pan, you dip into the stream for more water, and then slowly swirl it around… Round and round it goes. Mesmerising. Rinse, repeat. It is physically demanding work, but the prospect of riches keeps you going. Eventually you have no soil, only some gravel remains in the pan. If you're lucky, at the end, you will see a smatter of gold flecks. If it is your day, you will see a gold nugget.
It is said that the largest recorded nugget from the Pilgrim's Rest area was the "Breda" nugget, which weighed in at 214 ozs. (over 6kg)! Much like fishing stories, there are other legends that were whispered around campfires of nuggets as large as 25 lbs (11kg)!!
Gold nuggets – the sought-after treasure from gold panning…
Gold objects were first excavated from Mapungubwe in Limpopo, dating back to 1,000 – 1,300 AD. Together with Great Zimbabwe and Thulamela, Mapungubwe was part of a trading culture in which Africa's gold reached Arabia, India and Phoenicia. The Pilgrim's Rest area gold fields date back to ancient times, where unknown ancient miners worked the quartz reefs. The scars of their endeavours can still be found throughout northern and eastern South Africa and Zimbabwe.
The history of our country is intimately linked with the incredible volume and diversity of mineral wealth to be found here. This place and the mining activities attracted / bred an interesting array of characters. A certain taciturn, eccentric loner, known as Alec "Wheelbarrow" Patterson, was one such lesser-known character. The story goes that he left Cape Town with a donkey. One fateful day, when loading the creature, it apparently kicked him. And that was the end of that. He chose a wheelbarrow as a travelling companion and load-bearer – a contraption that couldn't kick! He then proceeded to travel from Cape Town to Sabie. Can you imagine a journey of that magnitude, using only a wheelbarrow to cart all your possessions?
"All your possessions" weren't terribly much – but quite a bit to fit onto a wheelbarrow!!
Eventually the diggings at Sabie became too crowded for his taste, and he wandered about 5km up the road, where he discovered alluvial gold in a stream. 'Wheelbarrow' kept absolutely quiet about his discovery, until William Trafford came along and also found gold in the stream. This lucrative little stream became known as Pilgrim's Stream – Trafford is alleged to have shouted "The Pilgrim is at rest!", effectively naming the town to be… Whilst Wheelbarrow kept the discovery secret, Trafford decided to register his claim. And the rest, as they say, is history. The area, which was now known as Pilgrim's Rest, was officially proclaimed a gold field on 22nd September 1873, and a gold rush (far bigger than that of Sabie) ensued. In less than a year 1,500 diggers were working 4,000 claims.
This claim was 'staked' in 1872.
In future articles, we'll explore other aspects of life in Pilgrim's Rest. The life of the diggers, however, was a relatively hard life. Many tourism articles refer to the "heady days" of the gold rush – but, in truth, it was a very hard (yet good at the same time) life for the prospectors. William C Scully, one of the diggers in the heyday of Pilgrim's Rest, wrote in his book Reminiscences of a South African Pioneer (1913) that he longed for that life again. He said that he would "often lie awake at night, visualising the campfires and the white tents scattered like petals along the lovely Pilgrim's Valley". There were very few doctors, and those that were there often had other tasks such as "tent/boot maker"…
"Home" is where you lay your head…
The following quote comes from the Daily Alta California newspaper in February 1878: "The creek being worked here (Pilgrim's Rest) is between three and four miles in length, and the number of diggers working it from four to five hundred, if not a little more. The quantity of gold found in it is enormous. Old miners, of large experience in the gold district of the Australian colonies, say it is, for its size, one of the richest creeks they have ever known."
Not all mining took place in the creeks – as can be seen in this closed off 'mine'.
Statistics for the area vary depending on the source. The record years of the Pilgrim's Rest mines were 1913 and 1914. This field is the third largest gold district in South Africa, rumoured to have produced over 168 tonnes of gold since alluvial gold was first found in 1873, to 1971 when commercial mining ceased. Pilgrim's Rest has in recent times been the bustling centre of the annual gold-panning championships and the economy is completely reliant on tourism (specifically around the town's mining history and heritage).
In reality, this region still harbours abundant gold ore reserves over an area covering 620 km2. This area previously fell under Transvaal Gold Mining Estates (TGME) – South Africa's first gold mining company, founded in 1895. Theta Gold Mines has kept the old company's name and still calls its venture the TGME project. There are around 43 historical mines that have been identified across this vast prospective gold field. Theta Gold Mines' venture is re-awakening the giant gold field where South Africa's first gold rush started in 1873. The area is located on the edge of the eastern Bushveld Complex.
In a release from April 2020, TGME was said to have discovered significant reserves of gold that could be mined for years to come. Over a century after the initial gold rush, modern mining techniques and high-powered machinery will allow them to once again explore and develop these old prospects and mines. The wheel of history has once again come full circle.
ARTICLE TWO
"Where there is gold, always, blood is there…"
No article on mining would be complete without a discussion about the zama zamas who are active in all sectors of mining. Technically "artisanal mining" is small-scale mining using hand tools. It is said to provide a livelihood for eight million people across Africa, who in turn support tens of millions more (although true numbers are often difficult to assess). The title of this article is a direct quote from one of the zama zamas.
In 2019, I took a group of people to Pilgrim's Rest. We panned for gold, and the river was crystal clear. Which was a good thing, as fly fishing is one of the tourism attractions of the area. 
Little Charli and Jo, panning in the clear stream in 2019.
On a tour of the old mining village one month ago, the creek was running red (with suspended soil). On asking the question, I was told that it was a result of the zama zama's activity. In fact, on the tour, where the guide was panning, one could hear the zama zamas chatting – a mere 50 meters or so down river from us. We were told not worry, that they were not dangerous. 
Note the red water – filled with suspended soil… The whole stream looks like this.
When I originally heard the term "zama zama", I imagined illegal migrants, criminals, tough men who weren't averse to a little danger. In my research I stumbled across the video detailed in the info block below – produced by the BBC. When you watch it, you realise that many of these men are desperate – to make a little money, to feed themselves, to buy food, clothing and schooling for their children who are often left behind somewhere far away from the mines. Life is seldom black and white, and whilst I am in no way endorsing criminals, when one hears the stories of the 'zama zama' in this documentary, you realise that some of them are simply humans doing their best to survive in a brutal world.
As a journalist, it is your job to explore as many sides to a story as you can possibly find – whether or not you like what you find. I found the story of the zama zamas to be particularly heart breaking. It's easy to dismiss them, with prejudice. It's a physically demanding 'job', even before any accidents. Dust gets into their lungs causing lung disease. There are stories of them getting lost underground. There are miners who are single parents, leaving their children alone for three days to go deep into the mines. There are no guarantees – hours of work often yield very little or nothing. There are shootouts, methane explosions, and rock falls. It's easy to be horrified by stories such as this, but I guess "needs must". This continent can be brutal.
One process associated with the zama zamas extracting gold is the use of mercury. This is apparently particularly prevalent in the Pilgrim's rest area. The mercury is mixed with gold-containing materials. It then forms a mercury-gold amalgam. When heated, the mercury vaporizes and the gold is left. This process is extremely dangerous and leads to significant mercury exposure, with its attendant health risks and even death.
Speaking to someone in the mining industry, I was told that there are now procedures in place to deal with the reality of "artisanal mining" in this country, but the vast majority of participants choose not to make use of them. The industry is fraught with criminal syndicates, violence and corruption, and at the end of the day it is often, quite literally, the guy at the rock face that pays the ultimate price.
Illegal gold mining has been increasing for more than 20 years in South Africa. First reported in 1999, where illegal miners were climbing into abandoned shafts in Welkom, it is continuously expanding – to all areas of the mining sector. The issue came to a head recently with the issues around the illegal miners in Mogale City. As with most things in Africa, it is a complicated situation, with no easy answers…
(Please note that the views in this newsletter are those of the author and not representative of any opinions held by Cross Country Insurance Consultants.)
Jacqui Ikin & The Cross Country Team
INFO BLOCK:
We are Zama Zama – BBC Africa Eye documentary:
https://www.youtube.com/watch?v=2jNZf9DvYfA