The Enchantment of the Wild Coast
Angel Falls. © Jacqui Ikin
In this, our last newsletter on the Wild Coast before departing for an inland fairy realm, we explore the concepts of beauty and mystery. We live in a world of absolutes. In our busy lives, there is seldom time to stop and contemplate the magic. To wonder whilst we are wandering… Myths, legends, hearsay and stories passed down via oral tradition are often dismissed because there is no "evidence". This all begs the question: would our lives not be far richer with simple acceptance and appreciation? Whilst being factually correct is important, sometimes the 'truth' is lost in the mists of time, or open to interpretation, or dependent on perspective or culture. I find it enchanting that, in this world of absolutes, some mystery remains. 
Fraser Falls © Jacqui Ikin
The Wild Coast is named 'wild' for good reason. Access is often challenging, primarily due to the many rivers without bridges along this coastline. The lack of infrastructure, and particularly the state of some of the roads accessing the ocean, creates further challenges. And yet it is precisely this very lack of access that has preserved this environment of cultural heritage, pockets of indigenous forest, palm-fringed river systems and pristine beaches.
Palm-fringed river systems and perfect reflections on the lagoon. © Jacqui Ikin
In many ways, the rivers define the Wild Coast. With rivers and rocky coastal plateau come beautiful waterfalls. In the area around Mbotyi, we visited three. The origins of their names appear to have been lost as time passed, or to be more precise, I was unable to uncover them. They also have different names in the vernacular. Regardless, there is something mesmerising about a waterfall. They seem to cleanse the mind and soothe the soul, providing meditative experience. It is said that waterfalls symbolise the process of letting go, cleansing, and the continuous flow of energy and life. Watching these falls, you completely understand these sentiments… 
Magwa Falls © Alex Brett
Whilst talking about waterfalls, can you imagine a miniature waterfall of delicate orchids? We were taken to a secret spot in an indigenous forest near Mbotyi to view a miniature white orchid which was flowering. Which orchid is this?  Once again, the 'facts' elude me. 
A delicate white indigenous orchid found in the forests of Mbotyi. © Jacqui Ikin
There are three possible choices: Aerangis mystacidii (flowers between February to April), Mystacidium capense (flowers in summer i.e. September to January) or Mystacidium venosum (unusually for a South African epiphytic orchid, it flowers in winter i.e. April – July). There may well be other options. Since we were there in early March, perhaps it is a Aerangis mystacidii. All three of these flowers are pollinated by hawk moths and give off a delicate perfume from dusk to dawn to attract them. In the end, for non-botanists, it's basically all just semantics. One designation or the other does nothing to change the thrill of finding such an exquisite orchid in an indigenous forest. Nor does it take away from its beauty or the perfume of the bloom. Perhaps one can simply appreciate nature…
Close-up image of the same orchid © Jacqui Ikin
Something else which fascinated me on our journey was the vivid turquoise of many of the huts. The "why" is always intriguing. Once again, it was very difficult to verify the origins. Many of these colours are from a brand of limewash known as Ikalika – a cost-effective paint that can be applied straight onto mud walls. These whitewashes / hydrated lime paints apparently have a large range of benefits, including helping the prevention the spread of disease, providing temperature regulation and hygiene control, they are breathable and environmentally friendly and, last but not least, act as a fire retardant! Or so the claims go…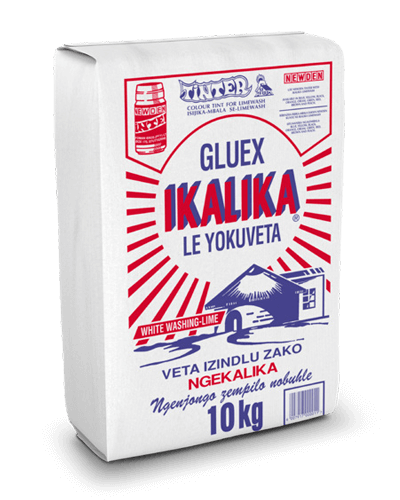 Ikalika with its tint.
With regard to their origins, I once again turned to Sinegugu Zukulu's local knowledge of the area. He provided me with this answer: "There are a couple of possible explanations. Traditionally people used just mud to paint their houses (ukutyabeka or ukucabeka). As time went by, various clay colours were used such as yellow and red which naturally occur in the areas. You still see this practice of digging along the roads in some places. Then traders started selling whitewash or lime in their shops, which the people started buying. They painted their houses white with a black line at the bottom (still using mud in order to hide dark marks caused by livestock such pigs, sheep and goats). Later, the traders brought tint in various colours. Finally cement houses, churches, schools and square houses emerged, which brought the use of paint – introducing more colours for people to use."
"The second explanation is that missionaries introduced these various colours to their church members in order to make it easy for them to identify homesteads that belonged to church members. Once people saw and fell in love with these colours, they started buying them to paint their houses. Then missionaries would change to a different colour. So, the different colours emerged and multiplied, until the missionaries gave up."
The very specific turquoise fascinated me. © Jacqui Ikin
Malibongwe L Ngcai also sent me a note stating that "In my environment, when we were young children, there were three colours used on the walls: the natural soil colour (or uncoloured soil), the white lime from the traders and the beige which was a mix of the white lime with some kind of clay from the river. The local traders marketed the blue and green tint. Gradually it was adopted by many as a matter of fashion. It became a resilient fashion, because even when people migrated to the cement walls, they added the same colours (green or blue) of tint to the white paint."
The Wild Coast invites you to suspend all expectations and simply to relax into what is. Time seems to slow down, and one would do well to adapt. Breathe in the fresh oxygen-rich ocean air. Feel the warm sun on your skin and the playful breeze in your hair. Appreciate the green hues, the quiet, and the spectacular sunrises over the ocean. As "winter" (a relative term compared to, say, Jozi) approaches, the smell of wood fires lazily wafts across the landscape in the early evenings. Life is just gentler here…
Jacqui Ikin & The Cross Country Team