As a company, we get involved with club events when we can. We have made good friends in the off-road fraternity this is good for our business. Most notable is the ATV club's annual Jamboree held at their facility at Rust de Winter from the 22nd to the 26th of September 2023. As non-participants, we did not attend the Friday session where people check in and set up camp. We opted to leave early on Saturday to attend the Gymkhana session and deliver our prizes.
When I first became involved with the club it was known as the SA Jeep Club but it has since then opened up to all types of 4WD vehicles. Without a doubt, it is one of the best-organised events I have ever attended. Well organised, well marshalled and deeply conscious of environmental concerns in everything that they do. The event is run with military precision given the background of the members and organisers.
There is a strong family focus and a lot to do for the little ones as well. The club has monthly meetings as well as an annual AGM and year-end function training is offered to new members, this provides the opportunity to improve skills in a risk-free environment. Braai facilities abound, allowing members to socialise and make friends.
We stopped for breakfast and coffee en route but knew that we would be able to get lunch at Rust de Winter as numerous stalls offer a variety of tasty eats. A general meeting, open to all club members, takes place during the year to get input from members regarding the Club's activities and administration. Social functions for Club members are held.
This concludes with a year-end function. The Club will always remain a non-profit organisation serving its members and maintaining the facilities. On that note, there are clean ablutions, campsites and even chalets for hire. The event is a test of skills for the driver and navigator, a good deal of fun is had by all. It is billed as the biggest gathering of 4×4 owners and attracts numerous competitors and spectators. We love the relaxed ambience and enjoyed watching the participants tackling the various obstacles which are well laid out and marshalled.
However, mud was everywhere. Some members also participate in the National Off-Road series. We ambled around the obstacles and had a great time ( finding shade when the sun got the better of us ) it was also a great opportunity to catch up with old friends. The event is well-sponsored and highly competitive. Kudos to the team that walks away with the winning trophy and prizes – Winner of the annual Toyota Rust de Winter Jamboree!
The event at Rust de Winter consists of a Gymkhana on the Saturday and a mountain trail of around 70km on Sunday. known as the "Bundu Trail', it goes over a mountainous section on adjacent properties. Rust de Winter is the official campsite of the 4X4ATV Club. The campsite is shady and has a variety of trees some of which are over 300 years old. There are around 160 permanent sites and 200 for casual visitors. Water is not potable but there is adequate water for sale around the camp and at the Gymkhana. We had a thoroughly enjoyable time watching the competitors testing their skills.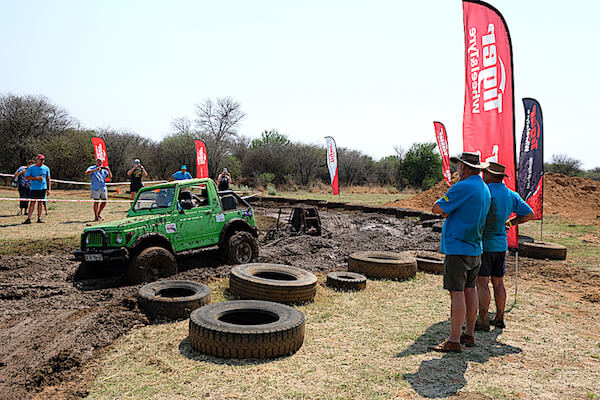 Regularly someone got stuck but safety procedures were in place when they were recovered. What I loved most was the emphasis on family participation and the facilities for the children. Over the Jamboree period, additional entertainment is offered for the little ones. Some sponsors even have special areas for children to keep them entertained. It's a festive occasion and we were sad when we had to leave but it is a long drive back to Jozi! We will be back next year as it is great fun and good to get out of the city.