I am going to start this column with a confession… I am definitely no Domestic Goddess! We all love food, and whilst it is not unheard of for me to whip up a "little something", by and large I prefer to have the "little somethings" whipped up by someone else. A true foodie will distinguish whether a dish is created with one flour or another – I'm simply an appreciative consumer who understands that one dish tastes vastly better than another. I am, however, intrigued by how culture, and region and history influence food.
The weekend past, I had a foodie adventure. You will remember the Vespa group from our previous column on Clarens? Bruno Gila issued an invitation to join them (as an honorary vespista – in my car ?) at a "Gnocco Fritto demonstration" taking place at the "Unofficial: The White House". As I was intrigued, and am generally a big fan of saying "yes" (which often leads to unexpected adventures), I agreed to join them…
The delightful Christine… Photo: Bruno Gila
I must confess to originally thinking that there was a spelling error! With my limited knowledge of regional Italian foods, I was convinced we were discussing the concept of "gnocchi". I was mistaken, and the two items are pretty far apart, from a foodie perspective.
Emilia-Romagna, a region in the northeast of the Italian peninsula, is apparently known for its stunning medieval towns, amazing cultural heritage and incredible cuisine. In fact, is considered one of the richest regions of Italy in terms of its gastronomic and wine-making tradition. "Se t'vò stè ben, magna fort e be de' ven!" is a proverb from the region, loosely translating into "If you want to feel good, eat well and drink wine". I'm sure we can all relate!!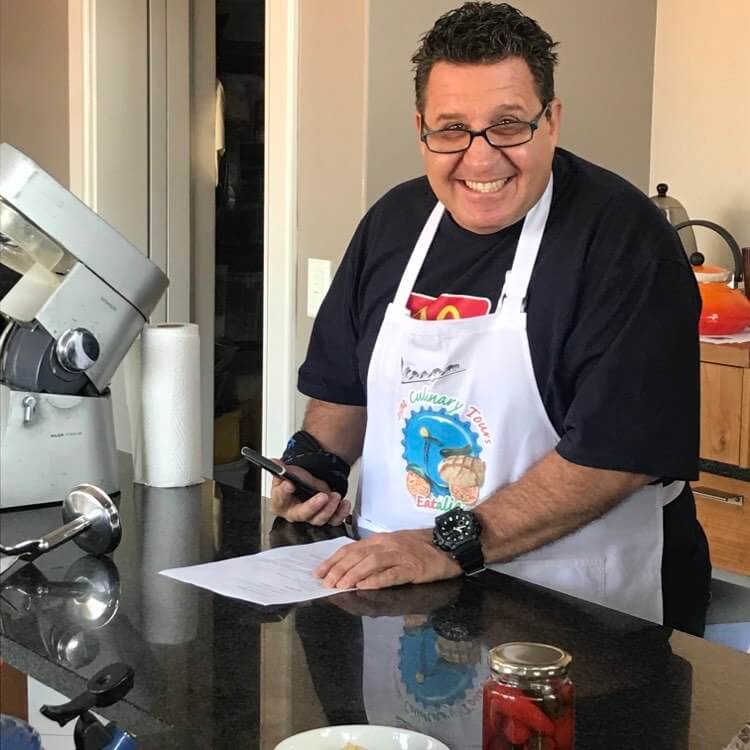 Bruno – ready with his recipe!
Emilia-Romagna, like most regions, shares its history through ancient flavours and traditions. Among the hills and plains of region, one of the simplest, tastiest and most popular specialties occurs: gnocco fritto (or 'fried gnocco'). It is a traditional appetizer of puffed-up dough, made with flour, water, yeast, and lard. These little golden pillows are typically cut into diamond shapes and puff up as they fry, ideal for filling with various local delicacies.
My research revealed that, despite the name, gnocco fritto has nothing in common with the traditional gnocchi pasta, and that the term has long been the cause of debate. This delicacy has different names – depending on the area and slight variations in its preparation: it is called "gnòc frett" in Modena and Reggio-Emilia, "crescentina" in Bologna, "torta fritta" in Parma, "chisulèn" in the province of Piacenza and "pinzino" in Ferrara. The concept, however, always remains the same, and regardless of the grammar or the dialect, the flavour is the same and it is irresistible. Traditionally served as an appetizer, a snack or even as the main course, it is apparently best enjoyed in good company and with a glass of Lambrusco wine – the perfect "marriage". It could conceivably even be served as a dessert by spreading something like Nutella!
Christine working her magic…
The history of fried gnocco is ancient, and traces back to the Lombard culture which had abundant lard (which was used both in the dough and to fry the gnocco). The Lombards, with thanks to their Celtic descent, introduced the use of animal fat into Emilian cuisine (whose gastronomy is rich in animal proteins and fats, such as wild boars and pigs). Initially, the fried gnocco was a simple substitute for bread – a dough made with simple ingredients, such as flour, water, salt and, of course, lard. Until the 1960s it represented one of the basic foods of the peasant population of the region.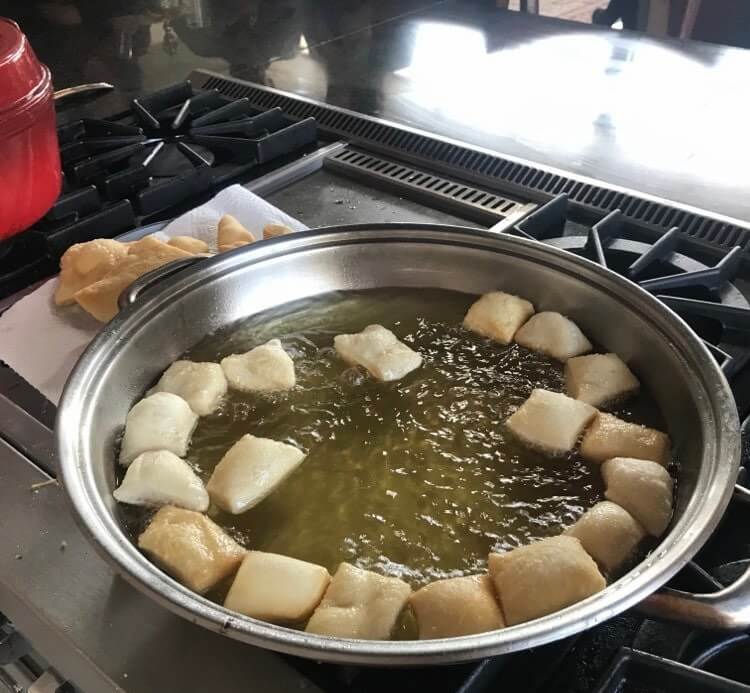 Little pastry pillows bubbling merrily in the oil.
Our experience of this dish was with a lovely gal by the name of Christine le Roux, at a venue known as the "Unofficial: The White House" – billed as a 'clandestine, covert destination'. As there are no numbers or markings outside, it was definitely somewhat clandestine and covert, so much so that we initially went to the wrong gate… Once you are safely ensconced, it is a beautiful venue, with an open-plan kitchen dining area – perfect for cookery demonstrations / foodie events. 
A vibrant soul, with a ready smile and sparkling eyes, whose love of sharing her passion for food is tangible… Photo: Bruno Gila
Christine believes in the "secret language of food". In her 'previous life', she travelled the globe for business, often arriving in countries where she didn't speak the language. "Once you sit down at a table, and the food arrives, you all speak the same language and somehow seem to understand each other, talking with your hands, expressions, the tone of your voice etc". Nowhere is this truer than in Italy, where food is such an integral part of life. She recalls one night in particular ("one of the most amazing nights of my life") in Modena, where there were twelve others around a table, all slightly older than herself. Everyone got to choose a pizza, and they were served one at a time, with each pizza being divided into thirteen slices. She often stood and poured wine for the group, mostly leaving her glass empty. One gentleman remarked on this – and, on the spur of the moment, she had to come up with a story. She told them that in South Africa, it's custom to pour wine for others in the hope that they will return the favour! Her glass was full for the rest of the night, she recalls, laughing softly. She has hundreds of stories to tell, all around food, and you can literally hear her passion for food – the one thing that brings us all together…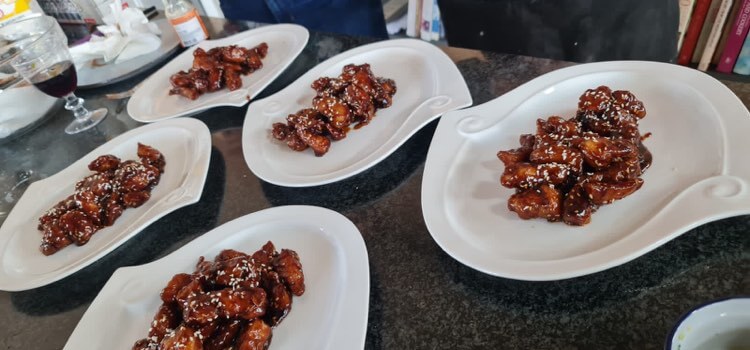 Sesame chicken, a 'side dish' to combine with our delicious creations… Photo: Bruno Gila
Christine provided us with the recipe, and then proceeded to demonstrate how to make the delicious little pillows. Once that was all sorted, wave after wave of dishes filled with various fillings came out of the kitchen, each better than the first! Eventually, we were beyond satiated. We couldn't eat another morsel.
Unofficial: The White House
Christine regularly does these events (see the Facebook link below), as well as an event that she calls "the long table". I think that, particularly of you live in easy driving distance of the venue, this is the perfect solution to a dinner party, or even a little corporate get-together!! I had the most delightful Saturday morning, proving that, more often than not, a resounding YES is a great response to any invitation!! Thank you, Bruno!!
Jacqui Ikin & The Cross Country Team
Info Block
Christine Le Roux
Unofficial: The White House
https://www.facebook.com/unofficialthewhitehouse