Sundays can be grand – filled with adventure, too much sun, loads of delicious grub and ending with that feeling that you need another day of weekend to recover. Other Sundays are quieter, more contemplative, decidedly more gentle. Today is one of the latter, and I sit here writing this column for my Cross Country readers. The weather reports predict intense heat later in the day, but for now it is pleasant – a gentle breeze comes through the window, warm with the scent of flowers.
Tourism month has come and gone. Perhaps a few more social media posts, a nod in the direction of travel here and there. Predictably, not terribly much has changed. I have a different, more personal view of tourism. I long for the open road… All. The. Time. I cannot get enough. I enjoy being home during the in-between times, processing the images, the memories, and writing about it all. I have come to believe that I was born to be a nomad of sorts – I am genuinely happiest on the open road.
That said, it is not all about getting the tick, or "The Shot". It is about experiencing as much of this great big, beautiful world as I can, and sharing it with others – both through my writing and on curated tours. For me, "The Shot" has a very different connotation. Images are always about a moment in time, a memory which will last forever. Many of these are about so much more than the actual image – which is, sadly, the only part the viewer sees. Below are some examples, together with their stories. Some of these images you may have seen before, published elsewhere – but the image is not the point – the story is. 
The shot that that became what I had imagined…
I was on assignment on Botswana, and we had just pulled into Nata Lodge where we were staying for the night – a spot no doubt well-known to many of you. It was beyond 'hot' at 48 °C – more like a furnace. At reception there was a note about the temperatures being 'medically significant'. The sun was shining brightly, and we made our way to the pub to get something icy cold and liquid. The droplets had barely formed on the glass, when we heard what sounded like thunder. Further inspection revealed an almost black sky behind the lodge. I could just imagine how beautiful that shot would be, with the vehicle against the black sky on the legendary Makgadikgadi pans. I called our guide, and we jumped in the car and headed out onto the Makgadikgadi Pans. The wind was severe, and shortly after I got this shot, a tremendous storm broke. The rain was pounding against the car, and large balls of vegetation were rolling across the road as though we were in a Western. Despite the vehicle being at its highest setting, we had to keep stopping to remove the 'tumbleweed' from under the Jeep. There were moments of deep concern – but I got the shot that I wanted. The fact that the camera ingested sand and made a grinding noise the remainder of the trip was not ideal – but what an adventure!
A not-so-little cow… in more ways than one!
This one is also a Botswana saga. We had been on game drives all morning and decided to take to the waters of the Chobe to get some variation – as well as take advantage of the cool breeze. We had gently drifted towards an island, whilst being served tea and home-made biscuits. All very civilised. We were smiling at this young elephant, who was amusing herself by charging and scattering the vast herd of impala around her. I was merrily photographing away, when she suddenly stopped and turned. Watching her through the viewfinder, I went cold – something in the primal areas of our brains (let's call it instinct) knows when there is danger on the horizon. She charged. Our boat luckily had a large engine and a guide who was wide awake – but the boat itself was no more than an aluminium 'tender'. All ended well and we needed another cuppa to calm our nerves – but the result could have been vastly different.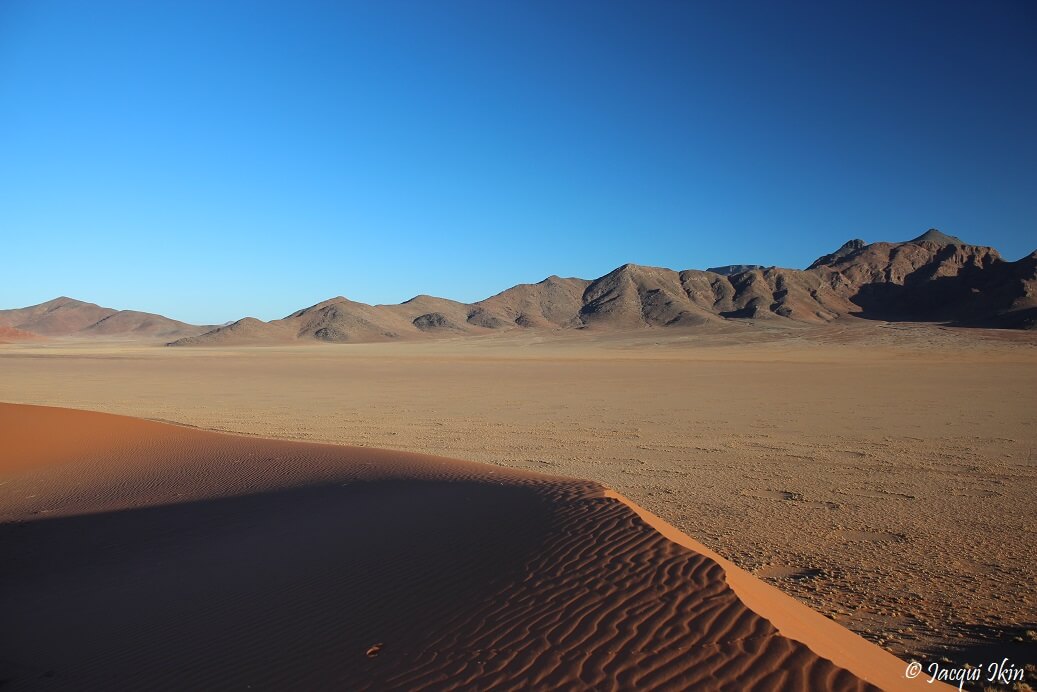 Fairy circles at the edge of the Namib…
I had wanted an image of fairy circles for my story, and the staff of the andBeyond Sossusvlei Desert Lodge had organised a driver to take me out at sunrise. Arriving at the open Land Rover, I was delighted to discover that my guide was a member of the San tribe, whose people had lived in this environment since time immemorial. En route to this spot, we came across a female jackal with two pups. They were feeding on a Korhaan kill. As quiet as we were (it was just me and the guide), and before we could leave, she decided that it was better to return later when the pesky humans weren't around. The one pup obeyed her call, but the other was having none of it.  You could see it was torn between listening to mum and leaving a delicious meal behind. It eventually decided to take the meal along. The sight of that tiny jackal pup, with the korhaan held high above its head, valiantly struggling along through the bushes on the plains, will forever remain etched in my memory. Thereafter we drove to the top of this magnificent dune and sat for quite some time with just the silence, a cool breeze playing with my hair and the quiet clicking of the camera. Whilst the jackals were too far away for me to photograph at the time, this image will forever remind me of that incident.
A Jeep in the daisies…
The incident relating to this image took place on my first-ever trip to "The Flowers" on the West Coast in 2011. This shot was taken in the Skilpad Nature Reserve – adjacent to the Namaqua National Park. It had been a last-minute decision, and, not knowing what vehicle to expect for the story (I only knew it would be a Jeep), I arrived at the airport to find this beautiful 5.7 Hemi Grand Cherokee. The entire trip was spectacular – but that's a different story. On this day, we photographed from dawn until around 5pm, when we arrived back in Springbok. My companion, who is an adventurous soul, asked me how I would feel about a quick trip to Kleinsee – because that would have been the "furthest point on the west coast that he had dipped his toes in the sea". We decided to go. Now let me paint you a picture – the road to Kleinsee was, for the most part, a large dirt road. 110km of dirt road, or 220km there and back. So off we went – and we found a way to get really close to the sea, walking the remaining short distance for him to dip his toes in the sea! On the way back, the heat of the day was dissipating and, even though it was still that golden time just after sunset, a great big full moon was rising. With the sunroof open, the cool air flowing into the big Jeep, great music on the sound system and a 110km of lonely open road – pure driving pleasure. That spur-of-the-moment trip will be something I remember for years to come. 
The Oceanographic Museum in Monaco looks over the Mediterranean (Côte d'Azur, French Riviera).
MipTV is a content market (where entertainment content is jointly produced, bought, sold, financed and distributed) held every April at the Palais des Festivals, Cannes, France. There are numerous learning and networking opportunities – and I was privileged to attend in 2015. I had one free day, and I had planned a proper little expedition – which was a little challenging as I don't speak (or read!) French. Nevertheless, I managed to make my way (via various trains and buses) to the restaurant La Colombe d'Or, which I had booked before leaving Jozi. It is located in the medieval hilltop village of Saint-Paul-de-Vence. This little family-run spot in the Riviera hills has a priceless collection of art. In 1920 a local farmer, Paul Roux, opened a café-bar then added three rooms above. During WWII, many painters sought refuge on the Riviera, often coming to La Colombe d'Or – and paying for their accommodation with paintings. Today the collection includes works by Matisse, Picasso, Léger, Braque and Chagall. The art is casually hung all over the place – making it a truly extraordinary dining experience. But I digress – after lunch, I found myself at the train station again at around 3pm. I wanted a Monaco stamp in my passport (you could get it upstairs in the Monaco train station), and I knew the last train back to Cannes was at 8pm. So off I went. I got the stamp, caught a little "Petite Train" for a whirlwind tour of Monaco, and ended up at the Oceanographic Museum which is rather splendid and definitely worth a visit – just leaving myself enough time to catch the bus to the station for the last train. Except the last bus never arrived. The image above is the last serene moment before I realised the reality – and had to 'run' (I use the term loosely ?) all the way down the hill, taking a shortcut through the Monaco Grand Prix Circuit, and only just made it onto the train before it pulled out of the station. So many memories in such an unremarkable image. 
Magical sunset…
Not all images have to be of far-off places. This sunset image was taken whilst walking in my home complex in Jozi. It was Christmas eve in 2020. It was one of the hardest years I have ever experienced, lonely and stressful. Whilst walking that evening, this sunset happened. The sky was filled with the most indescribable beauty, ever-changing over the period of about 45 minutes. For me, it was a promise that we would get through this, it was a gift of beauty that soothed my soul, and it was a moment of perspective – that this world is so much larger than our issues. A profound moment.
None of these images have been photoshopped, nor have any filters been used. The sky effect on the fairy circle image was simply a polarising lens. The sunset was taken on my iPhone 7. It doesn't always need to be complicated – nor perfect. Just get the memory. All of this leads me to my message today. Tourism is not an artificial construct – or at least, I don't think it should be. It is a way of life – whether you're visiting the local botanical gardens or crossing a desert. Be in the moment, be as 'alive' as you can be, revel in your senses – and take the shot (good, bad or otherwise) that will forever remind you of a moment in time. Say 'yes' more often than not. Do it as often as possible. Add as many memories to your life as you can. It is over far too soon, and one day, when you are no longer able to travel, you will have no regrets – only beautiful recollections.
For a touch of armchair travel, there is currently a series airing on Netflix called "Masterpiece: Around the World in 80 days". It is an interesting, if somewhat fanciful, watch – inspiring the desire to travel and asking some pertinent questions…
Jacqui Ikin & The Cross Country Team
© Jacqui Ikin