Prison Break Market – "Break out of your daily routine!"
Isn't that a wonderful sentiment? Especially after the last two years… I wander into the cavernous brick sheds, early to the market, before the hustle and bustle has begun. The air is still chilly, and the sun has yet to warm the building. A few traders are opening up, carefully arranging their wares, neatening up their little shops. 
Great care is taken. There is an air of pride, diligence and efficiency. I stroll around, relaxed and enjoying the time, quietly photographing. Shapes and colours catch my eye – contrasts, shadows and sunlight. 
The aroma of freshly brewed coffee lazily wafts through the air, and there is a vague scent of freshly baked pastries. I follow my nose…
It occurs to me that these sheds are, in fact, "Halls of Dreams". The past two years have been hard on entrepreneurs. Many have lost much. But we as a nation are resilient, and many have evolved, changed, upskilled and reinvented. These people are the proud survivors, and they are clearly excited by their lives – and their crafts. 
I met the lovely Lungi Mkhize in passing. I was taking an image, and instead of walking in front of me, she stopped and then continued on behind me. I thanked her – and she invited me to pop into her little corner of dreamland. She creates beautiful bath salts, using only natural oils which are all 'easy on the earth'.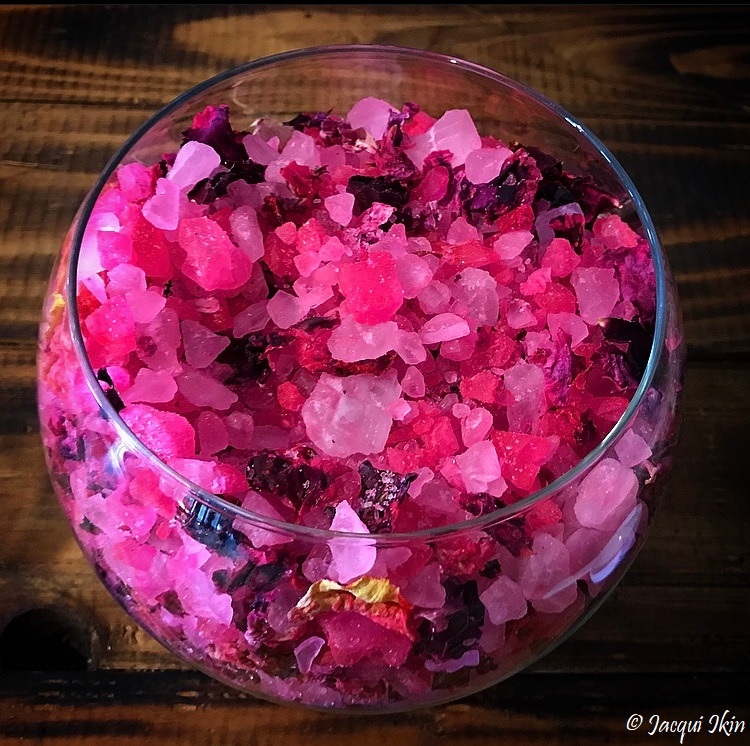 On asking her what she loved most about her business (because she appears to be very passionate about what she does), she replied "I love the fact that it touches lives and helps people. I may not know what people are going through, but the effect of the product is the same, whether you know or not. It helps the body to relax to a point of being able to heal itself again". Beyond just making the bath salts to sell, she also gives classes on how to create them at home – her details are in the info box below. Her company is called "Impilo Ende" – which translates to "Long Life".
As you stroll past, Grant Ewan's shop Acorn & Anvil beckons you in. Beyond being beautiful, the aroma of wood and leather wafts into the passage. If that's your thing, you will be unable to resist popping in. 
Grant greets with a wide smile, and a twinkle in his eye. He too clearly loves what he does. He has an infectious energy about him, and when he's not busy with customers, he's busily manufacturing at the back of the shop. 
The attention to detail on the wood and leatherwork are amazing. For example, when the leather in a belt / wallet is folded back on itself to sew, he even 'shaves' the leather down, so that you don't get a large, bulky seam. The detail in the embossing is also quite beautiful. Grant's details are also in the info box – if you don't get to the market, pop over to his website. Absolutely stunning workmanship!
There is no slow invasion of the plastic, the cheap, the imported… Only beautiful craftsmanship and original pieces appear to be allowed here. South African goods, made for South Africans (and a few tourists no doubt), by South Africans, using South African materials – or at the very least, African materials. 
That is part of the appeal of this market – only quality goods, unusual and beautiful craftmanship, bespoke options and artisanal food. A thoroughly delightful market which makes for a lovely opportunity to get out and enjoy the fresh air, the sunshine and perhaps something quite delicious.
The marketing blurb on the Prisonbreak Market website states "Our market is 7 unique sheds that contribute different offerings, allowing you to break out of your daily routines and experience a different world under the Sandton skyline. With a wide selection of crafters and designer stalls, indulgent and appetizing artisanal foods, creative crockery painting and interactive photo experiences, and a shed dedicated to distilling, brewing and wine tasting. We also have our monthly pop-up market, the night market, and themed events that add to the allure and desire to break out."
I thoroughly enjoyed my "Break Out" session, and highly recommend a visit.
Various sheds are open during the week as well – pop onto their website for all the opening times and more details.
Jacqui Ikin & The Cross Country Team
#prisonbreakmarket #artisanal #artisanalfood #jozilifestyle
INFO BOX:
Prison Break Market:
www.facebook.com/prisonbreakmarket
www.prisonbreakmarket.co.za
10 MacMillan Road
Cnr. Main and Lachlan Road
Glenferness, Midrand
+27 82 522 1739
info@prisonbreakmarket.co.za
Acorn & Anvil:
www.acornandanvil.co.za
Grant Ewan
+28 83 468 0055 
create@acornandanvil.co.za
Impilo Ende:
Lungi Mkhize
+27 68 227 5794