Tigers love water… © Lorna Drew, Tiger Canyon.
Tigers occur naturally in thirteen Asian countries. These countries just also happen to have the highest human population densities. 93% of historical tiger lands have disappeared primarily because of humanity's expansion. What to do? So often one hears the cry "Well, get rid of the people!" from wildlife enthusiasts. This approach is both misguided and unrealistic, actually damaging conservation efforts. Alternative approaches are required – particularly when an animal is as endangered as the tiger.
Most prey species would view the tiger in shades of black and white… © Lorna Drew, Tiger Canyon.
Today, conservation has become a global initiative. When an animal is endangered and exists only in very small numbers in the wild, there is always the risk that a disease / environmental disaster could wipe out the last population. Ian Player realised this in his fight to save the white rhino. He initially exported the animals from Umfolozi-Hluhluwe to the Kruger and other parks around South Africa. Stage two was relocating from South Africa to Zambia, Angola, Namibia, Botswana, Zimbabwe/Rhodesia, Mozambique and Swaziland. Finally, they were translocated to the United States (San Diego Safari Park initially) and the United Kingdom (beginning with Whipsnade Zoo). The rest of the story is history, and Ian Player saved the white rhino from extinction in this manner in the 50s. These types of projects can be incredibly successful – and are known as "ex-situ projects". 
Youngsters frolicking. © Lorna Drew, Tiger Canyon.
Whilst there are some that consider "ex-situ projects" a controversial approach, I personally believe that these projects have a huge contribution to make (as proven by Ian Player's methods) when done correctly. One such project which is endeavouring to make a difference by saving the tiger outside of its natural home range territories is Tiger Canyon. The project had been on my radar for some time, and I finally managed to get there  in early January. From a tourism perspective, I anticipated that it was going to be something special. I was also highly interested in the conservation perspective… 
Near-perfect (8/10) tiger terrain… © Lorna Drew, Tiger Canyon.
An Electrical Engineer by trade, Rodney Drew progressed into Project Management, taking over as DRA Mineral Projects' Project Director in 2004. At the time of his exit in 2016, Rodney was the Group HR Executive for DRA Group Holdings. Having had enough of boardrooms and corporate politics, he is now the Managing Director of Tiger Canyon. His professional approach is reflected across the broad spectrum of the lodge experience.
Tiger Canyon – completely off the grid… © Lorna Drew, Tiger Canyon.
The Karoo is known for its luminescence – there is something different about the light in that environment. It is big sky country, and the sun seems to burn the air clean. In the early morning and later afternoon, there is a golden hue to the landscape – an intensity which lends itself to the most surreal photographic opportunities. Add a photogenic Apex Predator and the most stunning of landscapes, and you have all the ingredients for a photographer's heaven. The safari Land Cruisers are enclosed to protect one from the elements and, of course, the tigers – but in such a way as to allow for the most fantastic photographic opportunities. 
Of tigers and wild flowers… © Lorna Drew, Tiger Canyon.
One's experience at a Game Lodge is made (or destroyed) by your ranger / game guide. There are currently only three rooms at Tiger Canyon, and on arrival, you are allocated your own vehicle and guide. The guides have been hand-picked for their experience and are highly knowledgeable on all aspects of the wilderness, including (of course) tigers. They all hail from the Sabi Sands region, having served in some of the most legendary of lodges in the region. Their passion is tangible, and each has their own speciality. Our guide "Adi" (Adriaan Stander) is a birding expert, and from the first moment on a game drive we had interesting 'ticks' and were regaled with colourful tales and an endless supply of information on birds and other aspects of the wilderness…
Adi – our knowledgeable, barefoot guide…
Tiger Canyon also prides itself on employing locally. Take Lucia Mokhele for instance. A delightful character, full of sunshine and positivity, who hails from Philippolis. She knew from a very young age that she "wanted to be a good cook". Her journey was a roundabout one, with much of her learning coming from studying recipe books and television shows on the subject. "Initially I could only cook pap and marog" she shared with a large smile. She was given an opportunity at the lodge, and today she serves up delicious Karoo cuisine, honest food from the land which is presented with panache.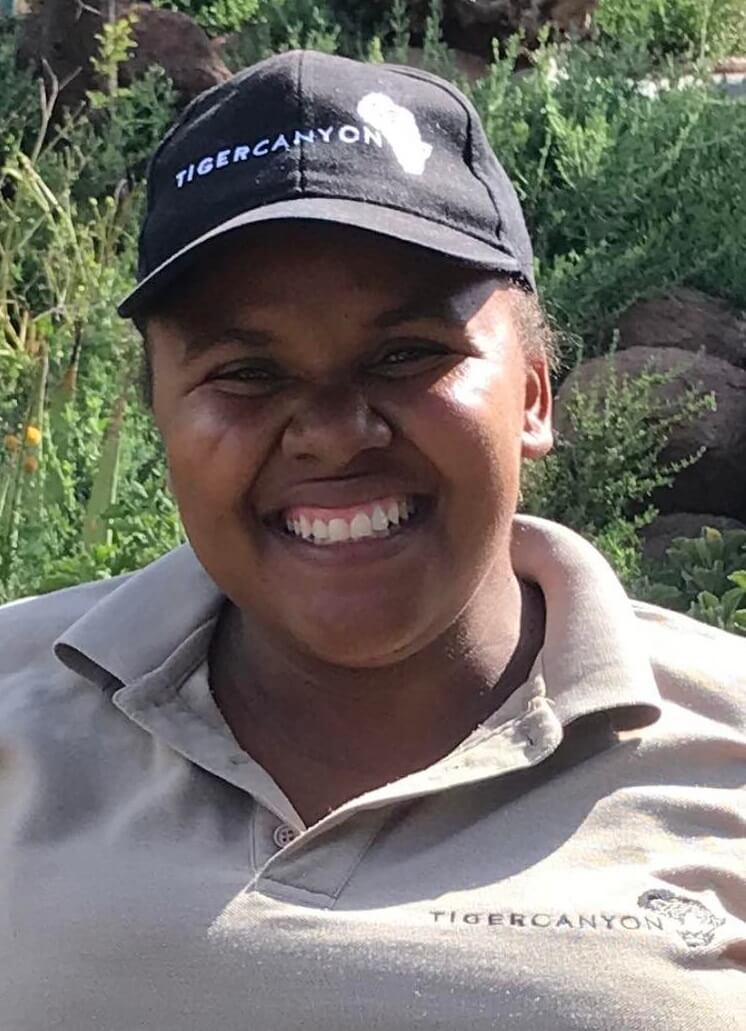 Lucia's sunny disposition was an absolute pleasure to be around…
Using the abundant sunlight of the Karoo, the whole lodge is off grid (solar powered). 2018 was the last time fences were built. Those across the open plains cost R100 000 per km, but once you get to the back hills, due to machinery required, and the clearing and earthworks, the cost goes up to about R200 000 per km. All the fences are powered by solar energy with big batteries to keep current going through the night. They use very little current and operate much as a standard electric fence with 8000 volts running through (as governed by law in South Africa). The shock will throw an animal off the fence and give it a wake-up call – but not result in physical damage. Tigers are apex predators and can be incredibly dangerous. As such, they need to have a healthy respect for the fences and the electrics on the fences. They require careful management, and in terms of responsibility and due diligence, these measures are necessary. 
Clear warnings on all the gates…
The tigers at Tiger Canyon live in 1000 hectare wilderness camps, in which they hunt and breed as any wild tiger would. Whilst the original cats originated from captive situations, the current tigers are wild and free – happily living in an enclave of perfect environment which they have flawlessly adapted to. Whilst there are many critics out there, the reality is that, without the tigers, this land would revert back to agricultural land and the biodiversity would once again be lost. Activities that re-wild the land in South Africa are important – particularly in terms of the biodiversity. 
Happy, wild, well adapted tigers. © Lorna Drew, Tiger Canyon.
In next week's article, we explore Tiger Canyon's cheetahs, blue cranes, the lodge itself and a once-in-a-lifetime sundowner spot…
Jacqui Ikin & The Cross Country Team
INFO BLOCK:
www.tigercanyon.com 
Email: info@tigercanyon.com 
Cell: +27 71 607 9279
Instagram: tigercanyon_sa 
FB: Tiger Canyon Private Game Reserve.