Camping is a popular pastime. From the basics of setting up your campsite ( wild camping ), a rigged vehicle with a rooftop tent, to the luxury of a fully set up safari tent ( a.k.a. known as "glamping" ). It's an excuse to take a break from everyday life and delve into nature. And it gives you a chance to slow down and reconnect with friends and family. For a novice, there is a lot to learn.
I recently lent a young couple all my kit to try out as they had never been camping before other than on those dreaded school camps. For me just contemplating camping is therapeutic. It is quality time outdoors, is a great stress reliever, life slows down and simple tasks often take much longer. It also means I can enjoy the little things, collecting pebbles to paint, picking up shells and driftwood and building campfires. And the simple joy of being able to gaze out at a beautiful landscape with no distractions or pressure to be productive.
As kids, we camped in the back gardens of our houses and rotated. We took juice and sandwiches and chatted late into the night.
I love my sleeping bag and air mattress and often lie outside and watch the stars. It's a fantastic connection with the outdoors and smells different to brick and mortar.
Campers are friendly people who in many cases just wander over to chat with each other. In many cases helping if the weather is bad or darkness is approaching. It's a type of community and it's good for you.
Need to understand though that a bad first experience can spoil one's interest in camping. so let us look at a few basics
Choosing a proper site is critical, look for a well-drained location.
Access to ablutions.
Availability of wood and potable water, if wild camping you will have to bring your own.
Safe surroundings with a degree of privacy.
Waste disposal, in wild camping, what you take in you have to take out.
Never camp in dry river beds as flash floods are extremely dangerous.
Be careful when camping under trees as there may be snakes and small animals unless it is a well-established camp. Do not leave scraps, fridges or cooler boxes out at night as they attract animals.
Mosquitoes are prevalent near water sources so take preventative measures, especially in malaria areas.
The organisation is key so arrive early to lay your camp out. If there is a prevailing wind face it with the rear side of your tent. Locate your fire a good 8-10 metres from your tent. Dig a small fire pit and place rocks around it. Keep your fire extinguisher close at hand.
Many of the bigger camps have washing and cooking areas obviating the need to make a fire.
Always try to use biodegradable products for showering and cooking.
Ridges and plateaus are generally warmer than dips and valleys, this applies throughout the year. Dips and valleys will be more suited to summer camping. Try and select a location that offers protection from prevailing winds. You can also use your vehicle as a windbreak.
Pitch your tent with the rear wall facing into the wind. Face the door towards the campfire. Keep your tent 8-10 metres from the fire to avoid flames or sparks. Build a proper campfire in a hollowed-out area preferably with a retaining wall made of small rocks. If there are no ablutions locate your toilet site in a private area about 100 metres from the campsite. This should not be anywhere near a water source. Avoid locating your campsite near places where animals may drink ( waterholes, dams and rivers) This can scare away smaller animals and may put campers at risk from larger animals.
In the bush use biodegradable products for washing and cleaning ( soap, washing up liquid, shampoo and toilet paper.
Depending on the length of your stay organise lighting, bedding, toiletries and clothes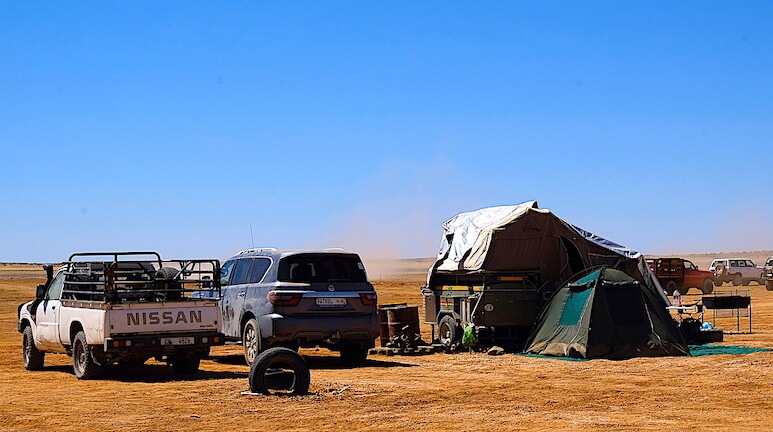 Camp layout
Taking the previously mentioned factors into consideration will help you lay your camp out. The amount of equipment you unpack will be determined by the length of your stay.
Lighting.
Stretchers, mattresses, bedding.
Toiletries and clothing.
Catering.
Do not make a fire on the drip line of a tree. The heat will damage the roots and the tree could ultimately die.
Relate the size of your fire to your requirements i.e. ambience and warmth or cooking.
Keep adequate stock of firelighters, matches or lighters.
Protect the fire from wind.
Do not use wet or green wood.
Keep equipment away from the fire, especially gas bottles or liquid fuel
Protect your hands when removing kettles, pots and pans especially if the handles are metal
Don't leave your camp until your fire has been extinguished and waste disposed of.
Establish a cooking area, cleaning area and eating area. Then a procedure for waste disposal that will not attract animals. Many of the larger campsites have bins located near the cooking areas and are fenced.
Hygiene should not be ignored. Larger campsites will have ablution blocks, if camping wild you can use a portable shower hung off a tree and filled with hot water. Do not let wastewater drain into water sources.
Chemical toilets are available for camping but they can take up space. The conventional method is known as the "cat-latrine".Dig a hole and put a toilet seat on a stand over it. Campers should throw a layer of sand into the hole after each use, toilet paper should be burnt before that. Once the campsite is vacated the hole can be filled in.
A useful "occupied" sign is to place a spade and toilet roll near the site. If it is not there the toilet is occupied.
Modern tents are lightweight, robust and easy to erect. Better designs include integrated groundsheets, mosquito nets, windows and a front awning.
Look to a reputable supplier for advice and ensure that there will be ample space in the tent, storage pockets and places to hang things such as a light.
The tent should be:
Easy to pitch
Suitable size and weight
Fully waterproof
Breathable fabric with air vents
Sealed floors
Good quality zips
Preferably light and reflective
Rooftop tents
Rooftop tents are designed to be fitted to the roof of your vehicle. They can also be fitted on top of a canopy, over the load box and on an off-road trailer. Take care not to exceed the manufacturer's specification i.r.othe load-bearing capacity of the roof. They offer convenience, safety and fast set-up time. Sleeping above ground is warmer and rooftop tents offer excellent protection against inclement weather.
Bedding
This is extremely important as a bad night can spoil the experience. Although the prime function is to keep you warm people still find it difficult to choose a bag. Once again discuss the options as there are factors to be considered:
Temperature ratings ( comfort to extreme )
Weight
Filling ( Down vs. Synthetic )
Cleaning process ( machine wash vs. dry-cleaning )
Insulation when wet
Shape ( rectangular, semi-rectangular and hybrid)
You can pair a bag with a liner as it keeps it cleaner. Add to this a stretcher and mattress or an air mattress. Foam pads are available but they are more suited to hiking.
The kitchen
You should have a kitchen set up that does not rely on you raiding your home kitchen, it should include:
Crockery and cutlery
A chopping board
A Knife set
A washing set and basin/bucket
Gas bottles with a cooking ring and gas lantern
Pots and pans
Storage containers
And yes when they came back they were sold on the experience.