Clarens takeover!
Picture post-WWII Italy… (and no, this article has nothing to do with current events!). A country with a crippled economy, and roads in a complete state of disrepair from the bombing. The masses needed to get around. People were also desperate for some light-hearted fun and colour in their lives. It was unbelievably difficult for the automotive and other manufacturing sectors to find their feet again, primarily due to the economy but also due to the state of the roads. Enter the Piaggo family…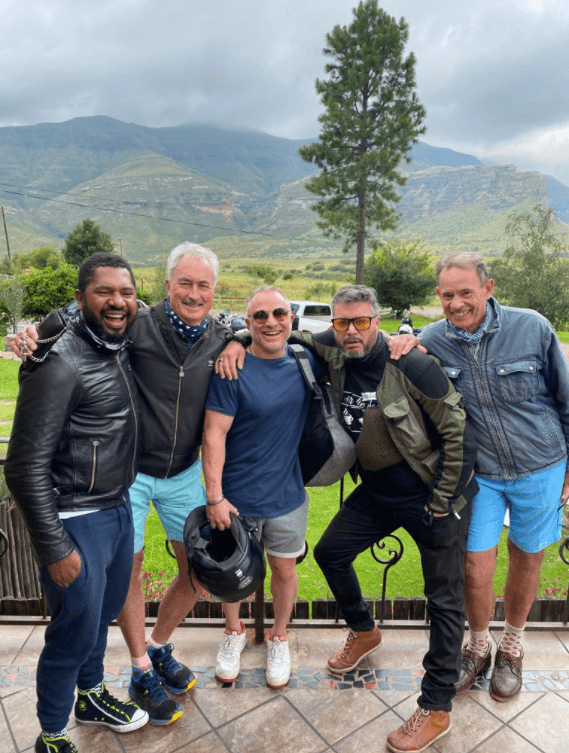 Friendships new and old…
Enrico Piaggio bought a piece of land in Sestri Ponente (Genoa) in 1882 to set up a timber yard. In 1884, his son Rinaldo (who was only 20 at the time) founded Piaggio & C. Whilst originally only building locomotives and carriages, towards the end of WWI Rinaldo looked towards the military sector. Initially, only MAS anti-submarine motorboats, aeroplanes and seaplanes were built under licence to Ansaldo, Macchi, Caproni and Dornier. Slowly progress was made, and vehicles were constructed according to Piaggio's own drawings. They were so successful that between 1937 and 1939, 21 world records were achieved with their aircraft and engines built at their new factory in Pontedera. Rinaldo died in 1938, and Piaggio was taken over by his sons Enrico and Armando.
Vespistis at the Ash River Outfall.
The inspiration for Vespa Scooters allegedly came from the pre-WWII Cushman scooters (manufactured in Nebraska, USA). Originally ordered by US Government as field transport, these green scooters were in Italy in large numbers – perfect for getting around the Nazi defence tactics of destroying roads and bridges. One model was particularly famous – a military vehicle known as the Cushman "53", which was designed to be dropped by parachute with the airborne troops. Other models were used on the military bases for messenger services.
Even the gloomy weather couldn't dull the brightly coloured Vespas!
In the early 40s, the Pontedera plant was destroyed by Allied bombing and the factory was relocated to the Biella area. Corradino D'Ascanio's passion for flight and design started early, and by the age of fifteen he had already built an experimental glider (by studying flying techniques and ratios of weight vs wingspan in birds). He eventually became an aeronautical engineer and was responsible for the design and construction of the first modern helicopter by Agusta. As Italy was apparently under an agreement after WWII not to research or produce any military or aerospace technology for a ten-year period, D'Ascanio was unemployable in Italy. The job of designing a simple, robust and affordable means of transport was initially given to him by Ferdinando Innocenti (of Lambretta motorscooter fame) – which was an interesting development as D'Ascanio absolutely hated motorcycles.
The group leaving Linwood Guest Farm for an interesting day of riding.
After the design was completed, D'Ascanio and Innocenti fell out, so he took his design directly to Enrico Piaggio, who produced the Vespa from 1946. The Vespa official site states: "Observing the sinuous lines of the first scooter prototype (MP6) and listening to the buzz of its 98cc engine, Enrico Piaggio couldn't help but exclaim: "It sounds like a vespa!" (wasp). This phrase commenced a campaign revolution that would make its way around the world and act as the foundation for several iconic advertising campaigns". Piaggio's Vespa trademark was registered on 23 April 1946, and the rest, as they say, is history! The Italian language even gained a new word, "vespare", meaning to go somewhere on a Vespa. Vespisti also entered the language, referring to people who ride Vespas.
Decadent waffles at Ionia Cherry restaurant.
The official website states that "The Piaggio Museum was inaugurated In March 2000 in the tooling department of the ancient factory, one of the oldest and most evocative units of the Pontedera factory complex, where the company transferred its production in the early '20s. The Museum was created to preserve and highlight the value and the historic legacy of one of the oldest Italian companies, and focuses on the reconstruction of Piaggio activities in the area." Completely renovated in 2018, the Piaggio Museum has a surface area of 5.000 m² and over 250 pieces on show – definitely a worthy visit for any Vespisti .
What makes a brand connect with the spirit of the time? Well, if that were easy to answer, we would all be very rich. Steve Jobs said that "You can't connect the dots looking forward; you can only connect them looking backwards", and so here goes… Italy had just been through an awful war. There was no money and few roads left intact. But they still needed to get around. What better than the unique Vespa scooter? Original, inexpensive, cheap to run and reliable. But most importantly in Italy – beautiful! I personally believe that the zeitgeist of an era is often expressed through its advertising, so please take a look at the various links at the end of this article…
The beautiful Linwood Guest Farm.
Where am I going with all of this, and why is it in this newsletter at all? Well, I received a call from Ian Georgeson saying that a group of Vespas would be riding to Clarens, and would I come along (driving a car with a trailer for Sunday's return trip). I am always open to new experiences, and so off we went. As a motoring journalist, the story behind the story is always fascinating, hence the article so far. But, so are the people. This particular tour was put together and run by Bruno Gila. As most of you know from previous articles, I have a KTM client – and as such, Vespa was a totally new arena for me. As a starting point, I found it interesting that both Bruno and a couple of the others on the tour ride some of the larger adventure bikes (think KTM / BMW etc), and we even had a couple of enduro boys on the trip. Something didn't make sense, and that was why I started exploring the cult-ure (get it?) around Vespa. It's marketed as a fun brand for those who love getting out and doing 'stuff'. Slowly the connection was becoming apparent.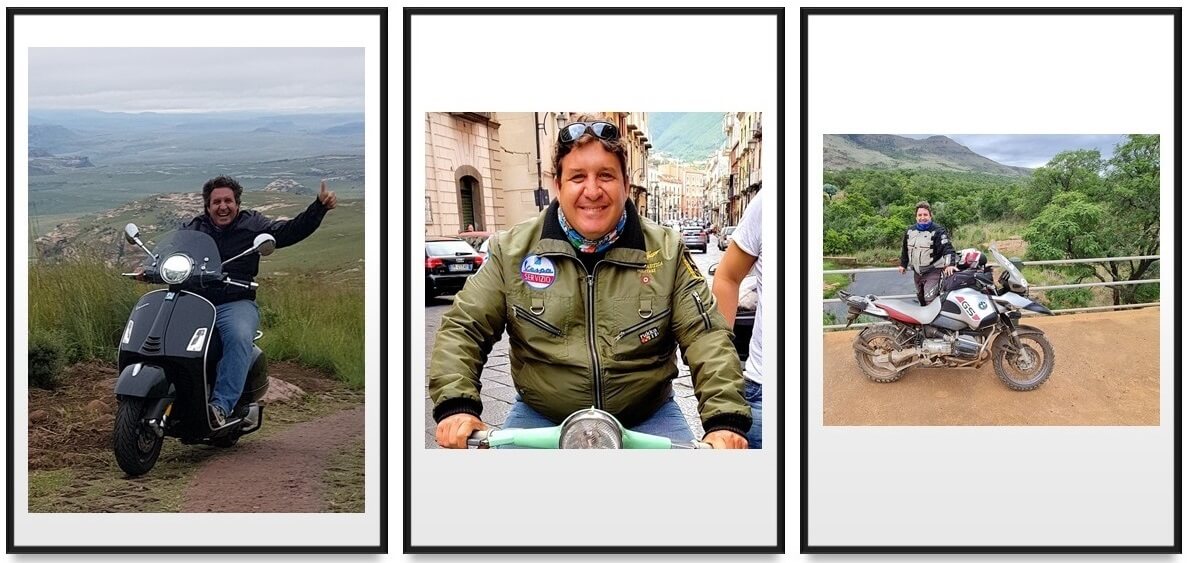 The many faces of Bruno…
But when I met Bruno, the pieces fell into place. Bruno is 'retired' – although you would never guess so judging from the amount of effort that went into the weekend. With a family history hailing from Milan, pre-Covid he spent half the year in South Africa and the remaining six months in Italy (Sorento to be precise) where he runs Vespa Tour Eatalia (see link in the info box). They explore the culinary delights of Italy, while riding the biggest Italian icon of all, the Vespa Piaggio scooter. People travel Italy and learn how to cook and/ or learn new cooking ideas. Everything is included – even the Vespa .
Bruno is all about people – he positively bubbles. He thrives on what he does – and he does it so well. In my experience, the leader sets the tone for any tour, and our Clarens tour was about laughter and fun from the get-go. In his 'past life', Bruno has owned restaurants and worked in the hospitality industry. As such, many call him Chef Bruno – which, after the two meals that were served at the wonderful Linwood Guest Farm (owned by a member of Bruno's family), compliments of Bruno and friends, I can understand why. But it's about more than just food – it's about sitting down and breaking bread together, a long table of happy, jovial people sharing anecdotes and revisiting the day's fun. After the isolation and pared down existence of Covid, it was such a joy!
The jovial dinner table at Linwood Guest Farm.
On the second evening we went out to Gosto – a Portuguese restaurant in Clarens, and had a great evening together, including live music and even some dancing! But, for me, the best part was the meals at Linwood, just enjoying the people and the conversations… During the day, the group (32 people, 22 Vespas – biggest group yet) rode around the area, and included a visit to the Golden Gate National Park and also a ride to Ficksburg etc. Great fun was had by all, and it was a relaxed, happy group that headed home on Sunday. Here's to the next event!!
The biggest group yet…
In next week's column we explore the Golden Gate National Park and a rather special restaurant in Clarens!!
Jacqui Ikin & The Cross Country Team
#Vespa #Clarens #vespagram #piaggio
INFO BLOCK:
Vespa Culinary Tours Eatalia:
https://www.facebook.com/VespaCulinaryToursEatalia
Linwood Farm:
https://www.facebook.com/LinwoodClarens/
https://www.linwoodfarm.co.za/
Piaggio Museum:
https://www.museopiaggio.it/en
VESPALOGY:
https://www.youtube.com/watch?v=aZZ-7UUqQsA&list=RDCMUCxZWr3SD_WKrHC9qIzQGhAA&index=7
Vespisti of the world, unite!:
https://www.youtube.com/watch?v=xpKV8lZ6svw
A compilation of vintage Vespa commercials:
https://www.youtube.com/watch?v=dq3PXBCMEog
Funniest Vespa TV Ads – Old vintage scooter television commercials adverts:
https://www.youtube.com/watch?v=488TDHXGGb8
Original Vespa AD:
https://www.youtube.com/watch?v=Pb9ZBuNZLl4